Thad Cochran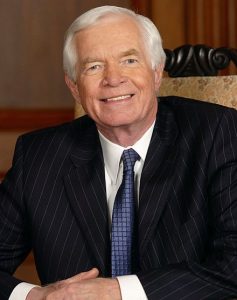 (BA psychology '59, JD law '65)
U.S. Senator for the State of Mississippi 1972-2018
In 1955, Thad Cochran enrolled at the University of Mississippi to earn a Bachelor of Arts degree with a major in psychology and a minor in political science. He was elected president of his social fraternity, Pi Kappa Alpha; was a company commander in the Navy ROTC; student body vice president; and was selected for membership in Omicron Delta Kappa, a national honorary leadership fraternity.
Cochran earned his undergraduate and law degrees from the University of Mississippi and studied international law for a year under a Rotary Foundation Fellowship at Trinity College Dublin, Ireland. He has been awarded honorary degrees from five other colleges and universities.
Before his election to Congress in 1972, Cochran practiced law in Jackson and served as an officer in the U.S. Navy. He was first elected to the Senate in 1978 and was re-elected six times.
He served as chairman of the Senate Committee on Appropriations, a position he also held during the 109th Congress (2005-2006) and 114th Congress (2015-2016). Cochran was a senior member on the Senate Committee on Agriculture, Nutrition, and Forestry, serving as its ranking member in the 113th Congress (2013-2014) where he played a pivotal role in helping enact the 2014 farm bill.