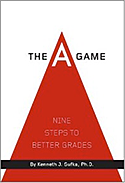 Professor Offers Tips to Help College Students Earn Better Grades
Ken Sufka has nine tips for both new and returning students in his book, The A Game: Nine Steps to Better Grades.
Sufka, a University of Mississippi professor of psychology and pharmacology, wrote the student success manual "The A Game" (Nautilus Publishing, 2011) on his fall 2010 sabbatical, in order to compile the information he had been giving students for years into a convenient form.
"I saw that students had truly horrible habits in preparing for class or exams, or some had habits that might have been successful in high school, but they weren't working in college," said Sufka, who has worked at UM since 1992.
The pointers include being engaged in classroom discussion, creating small study sessions, learning across all levels, self-testing and even managing test anxiety.
"I've seen huge gains in exam scores, and I've seen grades go from D's and F's to A's and B's," he said. "I tell students to come to my office anytime, but if they don't want to see me, or if they need a refresher, then the book is an excellent resource."
The tips evolved from wanting to help promote efficient and effective study strategies, while convincing students that their way wasn't working.
"I think everyone is looking for something to get students on the right track," Sufka said.
The book has been ordered by colleges and universities across the country, and was recently favorably reviewed by the National Academic Advising Association, or NACADA.
"Although Sufka's 'rules' may appear simple on the surface, such as daily attendance and timely preparation for exams, it would be a disservice to underestimate their value," wrote Comfort Samida in the review. "Sufka's style is straightforward and concise with a heavy dose of humor infused, making The A Game an enjoyable and entertaining read."
Sufka is pleased that all the points he made were noticed.
"The NACADA reviewer hit on every point," Sufka said. "The book is accessible to students, humorous, practical, easily adapted and based on science."
Associate Provost Noel Wilkin has used Sufka's book to show students that studying in college is not the same as studying in high school.
"For the past two years, we have distributed The A Game: Nine Steps to Better Grades to all incoming Provost Scholars," Wilkin said. "The sensible and useful strategies that Dr. Sufka proposes are important for all students, even those who have been successful in high school. College is a different learning environment than high school and these easy-to-implement tools will be helpful to students who want to be successful in college."
Sufka has been active in the university's Faculty Senate and is the winner of the 1996 Elsie M. Hood Outstanding Teacher Award, 2005 Faculty Achievement Award and the 2006 Thomas F. Frist Student Service Award. He is a member of the Society for Neuroscience and the Society for the Teaching of Psychology.